A Child's Christmas 2020 – Christmas Card Competition
We are delighted that once again we will be running our Christmas Card Competition with the winning design used for the electronic card that is sent to hundreds of businesses, organisations and individuals in the District.
This competition is open to all children in the Bradford District. Children are asked to represent the theme of
A Child's Christmas in Photography, Drawing, Painting or Collage, suitable for publishing as a Christmas card. Judges are looking for an image only, please do not include text or make into a card shape.  
Judges will be looking for imaginative and eye catching designs which interpret the theme of
A Child's Christmas which will represent what this special time of year means to the pupil. This could be a winter landscape of our area, a portrait with a festive scene, a still life with a festive theme or something of the pupils' own imagination! Try to give that special local touch to the design.
Four different winners will be chosen to be made into official electronic cards for:
Strategic Director of Children's Services: Mark Douglas
Lord Mayor: Councillor Doreen Lee
Chief Executive of Bradford Council: Kirsten England
Music & Arts Service (if you want to be considered for this card please include an imaginative musical element).
This will be across the age ranges but one runner up will be awarded in each age range:
Primary Key Stage 1 and Foundation
Primary Key Stage 2
Secondary school
Special school
The winner and each runner up will receive a prize and certificate.
A presentation event will be announced soon for mid-December (subject to COVID-19 restraints).
Designs can be on any size upwards of A4 and if possible will be returned to your school.
YOUR TEACHERS WILL BE GETTING THIS INFORMATION IN SCHOOL BUT YOUR PARENTS CAN ALSO SEND YOUR WORK IN
We ask that all designs – photography, drawing, painting or collage have the following printed clearly in block capitals on the back:
Childs Name
Year Group
Key Stage
School Pupil Attends
Parents Name + Contact Details
Entries should be sent in a sealed package to:
Tony Bullock
Visual Arts Coordinator, and Music & Arts Service
C/o St Francis Catholic Primary School
Myers Lane
BRADFORD
BD2 4ES
Schedule of key dates:
All Entries must be received                                                    – Wednesday 21 October 2020:
Winners and runners up informed                                        – Week beginning 9 November 2020:
Presentation event (subject to COVID-19 restraints)         – Mid December 2020:
Any enquires on this matter or any other visual or performing arts matter should be directed to
Tony Bullock.
Contactable via phone on 07582109239
or via email on anthony.bullock@bradford.gov.uk
We look forward to receiving your entries
---
Dean Russo Stage by Stage Drawing of a Dog.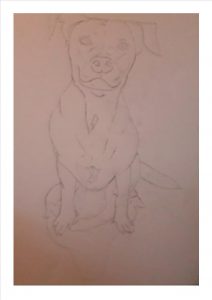 STAGE 1
I worked from a photograph of a friend's dog and produced a simple line drawing in black pencil.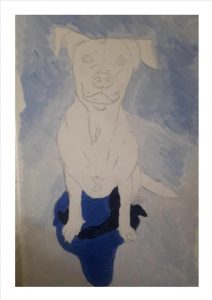 STAGE 2
Using white and blue paint I painted the background, you could make this more abstract but you don't want to distract too much
from the dog his self. Take care not to paint to the edge. I created the shadow under the dog by adding a little black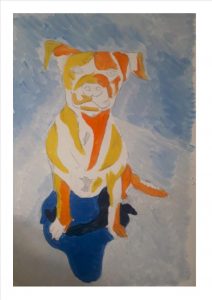 STAGE 3
Staring with yellow I added random patches of colour, then orange.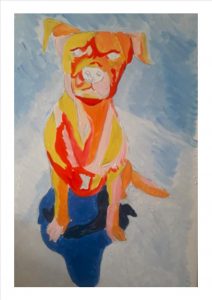 STAGE 4
I then added pink and red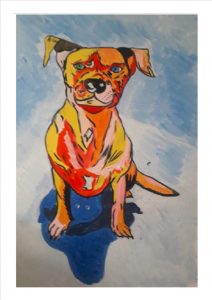 STAGE 5
Use a fine paintbrush to add the black outline, unlike my poster paint dog I had a bit of fun with eyes by giving him two different
colours. Am unsure if this works or is just too much colour.
ART HUNTS
Here are a number of ART Hunts , Children who have worked with Mr Bullock will know how they work , for those who haven't here is an explanation
Open up ART HUNT IMAGE sheet and the corresponding ART HUNT QUESTIONS sheet , look at each picture in turn and try to match it with one of the clues. This should take about 30 mins then check with ART HUNT ANSWER sheet
3D Work
STAGE BY STAGE ART IDEAS
Below are links to activities you can do stage by stage with pencil or paint
SCHOOL LINKED TOPICS
Below are a few ideas for topics you might have studied last term
RECORDING THE HISTORY OF 2020
We are living through historic times, we are all doing things we have never thought we would. The art projects in this section are designed to make a lasting record of our time in isolation. Just think in years to come you can show this work to your family and tell the story of the events of 2020
Montage Collage Portrait Examples
For tailor made ideas for your children in art in the coming weeks contact Mr Bullock direct on
anthony.bullock@bradford.gov.uk
---