Christmas Card Competition 2021
Thank you for everyone who entered our Christmas Card Competition this year, there were some great entries and it was fantastic to see all of your efforts! We received approximately 400 entries from 25 schools in total; as you can imagine it was very hard to select winners and runners-up from all of these.
Please follow the link to see all of winners and runners-up that were selected this year: Christmas Card Competition 2021.
---
Dean Russo Stage by Stage Drawing of a Dog.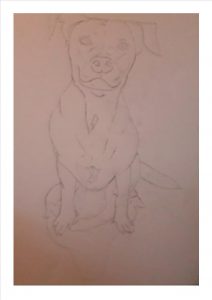 STAGE 1
I worked from a photograph of a friend's dog and produced a simple line drawing in black pencil.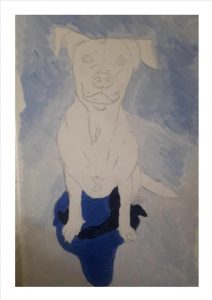 STAGE 2
Using white and blue paint I painted the background, you could make this more abstract but you don't want to distract too much
from the dog his self. Take care not to paint to the edge. I created the shadow under the dog by adding a little black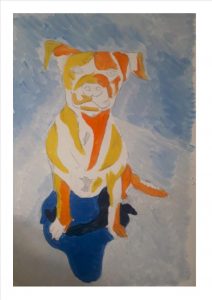 STAGE 3
Staring with yellow I added random patches of colour, then orange.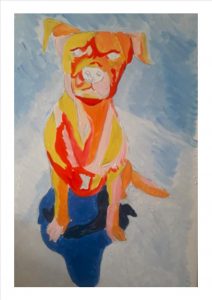 STAGE 4
I then added pink and red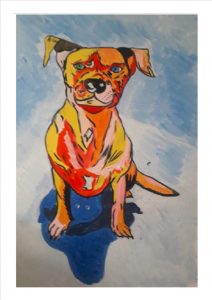 STAGE 5
Use a fine paintbrush to add the black outline, unlike my poster paint dog I had a bit of fun with eyes by giving him two different
colours. Am unsure if this works or is just too much colour.
ART HUNTS
Here are a number of ART Hunts , Children who have worked with Mr Bullock will know how they work , for those who haven't here is an explanation
Open up ART HUNT IMAGE sheet and the corresponding ART HUNT QUESTIONS sheet , look at each picture in turn and try to match it with one of the clues. This should take about 30 mins then check with ART HUNT ANSWER sheet
3D Work
STAGE BY STAGE ART IDEAS
Below are links to activities you can do stage by stage with pencil or paint
SCHOOL LINKED TOPICS
Below are a few ideas for topics you might have studied last term
RECORDING THE HISTORY OF 2020
We are living through historic times, we are all doing things we have never thought we would. The art projects in this section are designed to make a lasting record of our time in isolation. Just think in years to come you can show this work to your family and tell the story of the events of 2020
Montage Collage Portrait Examples
For tailor made ideas for your children in art in the coming weeks contact Mr Bullock direct on
anthony.bullock@bradford.gov.uk
---